Experience the mountains from a different perspective
if you want to go high, you can do that with an (e-) mountain bike
Whether with or without electronic support, it is important that the bike fits you. That's why the Sport Nenner (e-) bike rental offers you only high-quality Corratec (e-) bikes that are tailored to you and your needs!
(E-) bike is not the same as (e-) bike. Anyone who has ever been on a bike in the mountains knows that. Because in order to move safely off-road, you need a sensible mountain bike - well sprung and with the appropriate gear ratio. 
But the best (e-) mountain bike does not help if it is not tailored to the rider: frame size, saddle position, suspension, etc. must be adjusted by specialist staff. And so that you can be really sure: After each Our CORRATEC bikes are checked and serviced. This is the only way to ensure that a safe onward journey is also possible.
Whether you prefer pure muscle strength or some motor power, you can get the right mountain bike at Sport Nenner. Simply reserve a bike that is always well maintained - when you pick it up, everything is set exactly for you and off you go through the beautiful landscapes of the Tux Valley.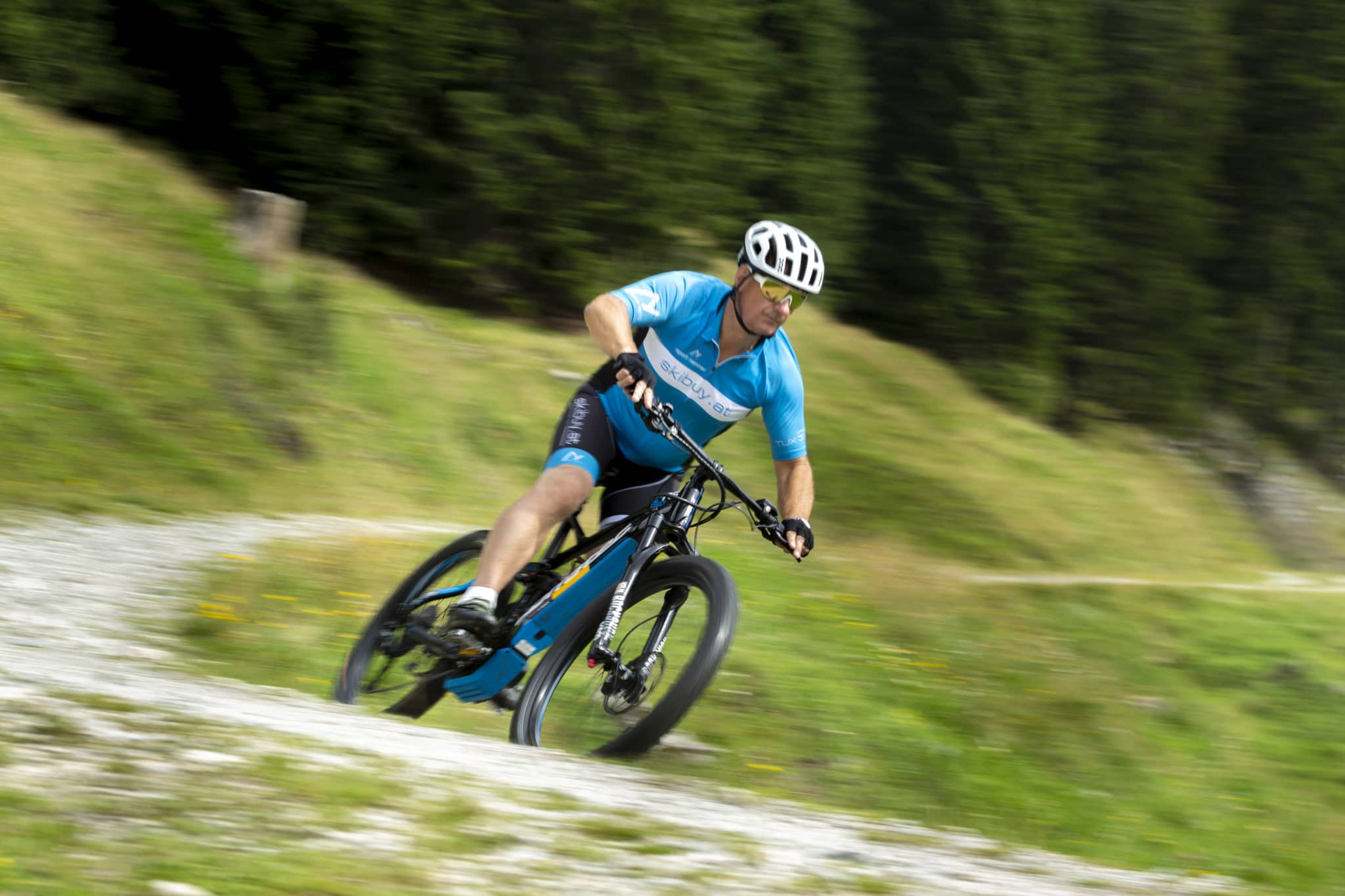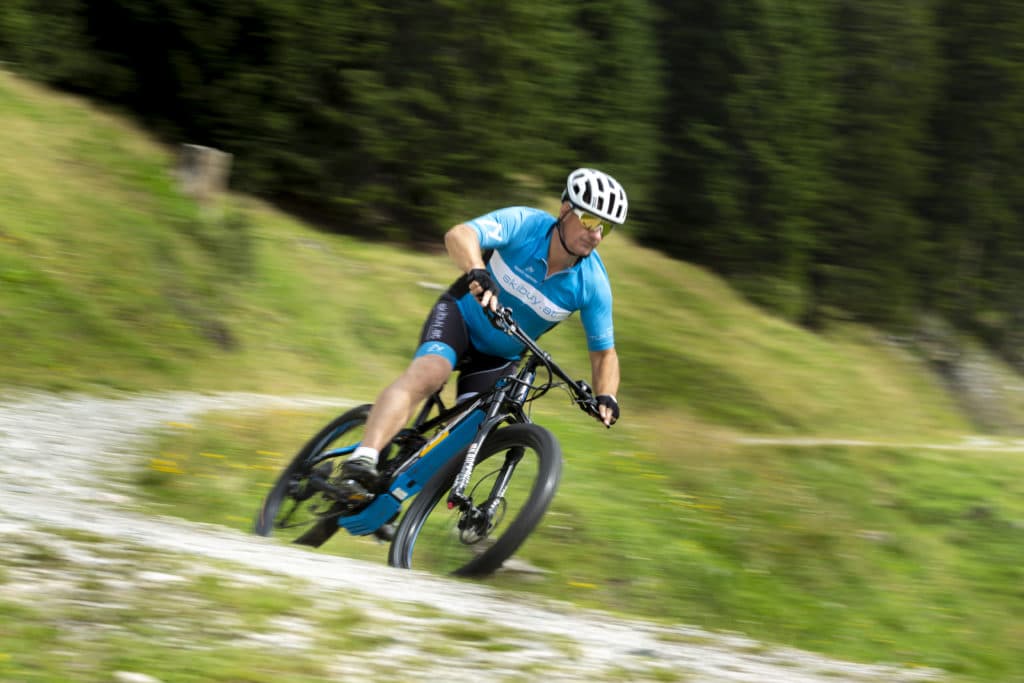 Bike tours in the Tuxertal
Did you know that there are 800 km of mountain bike trails in the entire Zillertal, all of which lead to remarkable viewpoints, leisurely refreshment stops and airy descents? So it goes high and steeply downhill on the bike tours through the Tuxertal and there much to discover. In addition, three Sport Nenner bike shops are always nearby in the Tuxertal!
OUR TOUR TIP:
Hintertux - Tuxer Joch
The evergreen in terms of Tuxertal bike trails leads from Hintertux via Sommerbergalm to Tuxer Joch at 2,310 m. Approx. 850 vertical meters & 9 kilometers. The ascent to the Sommerbergalm is also possible by train.
You can find all bike tours in the region at maps.tux.at
(E) -Bike rental categories
Our best piece - for everyone who really wants to know! The full-suspension e-mountain bike (fully) from CORRATEC is the all-plus ultra in the mountains of the Zillertal. The second spring on the rear axle makes descending a pleasure. Sufficient power is also provided: As with our premium e-mountain bikes, only the highest quality components are installed here.
For e-mountain bikers of all kinds. The modern way to explore our valley. Our premium e-mountain bikes (hardtail) from CORRATEC have a lot to offer. You get a premium e-bike with the highest quality drive components on the market from BOSCH. So that you don't run out of juice on your tour over the mountains, these e-bikes are equipped with powerful batteries (up to 625 Wh)! 
The alternative for athletes who prefer to let it crack without e-support. For all those who prefer to use the wadan drive and do not want to be tied to a battery: Our feather-light premium mountain bike from CORRATEC not only provides the necessary sporty appeal, but is also simply fun in every respect!
Premium junior e-mountain bike
Attention parents: With our premium youth e-bike, your offspring are on par! E-bike tours for the whole family are therefore easily possible.
Please note: The e-mountain bike for children and teenagers can be used from 130cm height and may only be used under supervision.
rental stations in the Tuxertal
| Bike / days | 1 | 2 | 3 | 4 | 5 | 6 | 7 | + |
| --- | --- | --- | --- | --- | --- | --- | --- | --- |
| E-FULLY | 50,00 | 90,00 | 125,00 | 155,00 | 185,00 | 210,00 | 210,00 | 25,00 |
| E-MTB | 40,00 | 70,00 | 95,00 | 120,00 | 140,00 | 160,00 | 160,00 | 20,00 |
| MTB | 25,00 | 45,00 | 60,00 | 75,00 | 89,00 | 99,00 | 99,00 | 10,00 |
| Youth E-MTB * | 25,00 | 45,00 | 65,00 | 80,00 | 95,00 | 110,00 | 110,00 | 10,00 |
| Helmet adult | 5,00 | 9,00 | 13,00 | 16,00 | 19,00 | 22,00 | 22,00 | 2,00 |
| Child seat + helmet | 7,00 | 12,00 | 16,00 | 19,00 | 22,00 | 25,00 | 25,00 | 3,00 |
Subject to changes, typesetting and typing errors
* Helmet included. Minimum height 130cm and appropriate skills required. Youth prices valid up to 14 years. Duty of supervision and supervision for legal guardians